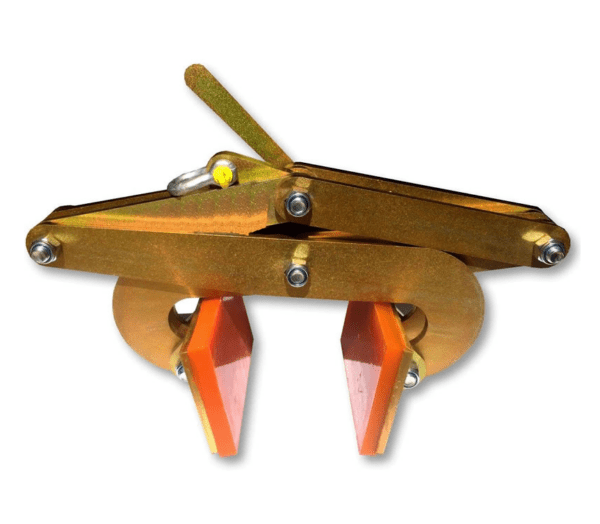 50 years
lifespan
AS 3600
Certified

ACRS
Certified
Termite Resistant

Our concrete sleepers will not rot, twist, shrink, and
are not susceptible to termite and ant rot.

Engineer Certified

Our concrete sleepers are engineered and certified here in Victoria
and can be used in retaining walls up to 4.5m in height.

Designed To Last

Unlike timber sleepers, concrete sleepers don't decay and don't need to be replaced, making them a more economical solution for your next project.
Tradies and Wholesale Companies
We offer competitive pricing structures specifically tailored for tradespeople and wholesale buyers, ensuring affordable rates that recognise the volume of their purchases and the nature of their businesses.
Check Trade Prices
Calculate Shipping
Add in your postcode to get a more accurate shipping estimate based on your area.
What Our
Customers Say
Check out some reviews from
people that loved the show
Frequently Asked Questions
Our team is committed to helping you choose the right products and offer specialist advice with building your retainer wall with our concrete sleepers. Find answers to our most frequently asked questions here...
General, Returns & Delivery
Yes we do, contact our friendly staff to discuss your business.
Concrete Sleepers delivers concrete sleepers across all of Victoria and we can even organise interstate freight for delivery if required. Our most common delivery areas are in the Greater Melbourne suburbs, but if you want to know for sure whether we can delivery to your suburb, please call Concrete Sleepers during office hours on (03) 9988 2991.
We will always try our best to accommodate your requested changes. Just call the Concrete Sleepers team during office hours and talk to one of our office staff about your order. Please note all changes should be made at least 24 hours before delivery.
Any changes to your order within 24 hours of your due delivery date will incur a re-picking fee. This fee will depend on the order with a minimum cost of  $100+GST
No, you do not have to be on site to take delivery, as long as there's clear instructions outlined on the day before for Concrete Sleepers staff on where to place your delivery.
Concrete Sleepers DOES NOT accept any returns of concrete products due to transport and handling.
You will receive a call from one of our staff the day before your delivery is due. On the day of delivery we will be able to give you an ETA, although please understand that some factors can affect your delivery time on the day such as weather, traffic, and previous delivery. We always strive to get our deliveries out as quickly and efficiently as possible.
Yes, you are welcome to pick up from our factory, just consider that we won't be able to load sleepers on enclosed trailers, wagons or vans.
Yes, we have a display at our manufacturing factory at 72 Officer S Rd, Officer VIC. All of our concrete sleepers are on display. You can visit us at any time during business hours. Also, our concrete sleepers are stocked in all ROBOT BUILDING SUPPLIES stores.
Our standard stock sizes are 1.8m, 2m and 2.4m. However, we can make custom sizes if required. Please call the Concrete Sleepers office during trading hours on (03) 9988 2991 if you require any custom size concrete sleepers.
Yes, you are able to cut concrete sleepers but keep in mind that they do have two N-12 bars inside of them. We recommend using a demolition saw with diamond cutting blade to cut through the concrete sleepers.
Concrete Sleepers provide most steel post sizes starting from 100uc14. We also supply H-beam, C-beam, 90-deg corners and 45-deg corners. Our stock lengths start from 900mm and increase in 300mm increments.
All of our steel post products are in accordance with Standards Australia AS Standard: AS/NZS 3679.1 For custom steel, please call the Concrete Sleepers office on (03) 9988 2991.
No. Concrete sleepers do not require painting, although to give them a darker look you are able to use a concrete sealant.
Concrete sleepers can last a lifetime if maintained properly.
The C channel is usually placed at the end of the retaining wall, whilst the H channel is normally used as a double C channel connecting two segments of sleepers. There is also 45 and 90 degree channels available.
In most cases, unless otherwise specified by an engineer, is that the post has to be buried down matching the height of the wall (50% in 50% out). For example, a 600mm high wall must have 600mm of steel in the ground. Therefore, the steel length should be 1200mm.
It is recommended that you have at least 600mm into the ground.
Yes, you can build your own retaining wall. Always check prior with your council about the regulations in your area. Be sure to research what is needed for a successful and up to code retaining wall.
Product cost does vary due to the size and variation of the wall. Feel free to contact us and we would be happy to provide you with some installer details, they will be able to cost the full install for your needs
Concrete sleepers are heavy, so installation can be difficult. Concrete Sleepers can provide solutions to help with installation such as Grab hire for a small daily rate.
Retaining walls above 1 meter must have council approval. If council approval is required, it is because a retaining wall may pose a danger to people or the environment around it unless it is properly constructed.
The only way to ensure that it does not is to have the wall designed and approved by professionals. In some areas, you will need to engage the services of a structural engineer.
In this case, you will need to:
Lodge a building application.Have a qualified drafter or architect draw your plans or an engineerHire a building certifier, who will approve your plans and make periodic inspections to ensure the retaining wall is being built according to specifications.
If you think your retaining wall may need council approval, it is probably a job best left to the experts.
In Victoria, a building permit is needed for retaining walls over 1 meter high. The landowner is responsible for ensuring a building permit is obtained and must ensure the person in charge of the building work has a copy of the approval. If they don't have a building permit, an enforcement notice can be issued requiring the landowner to comply with any building requirements imposed which may involve removing or demolishing the structure. A breach of the building Act is serious and illegal building work can require a landowner to attend the Magistrate's Court. Notification of current/recent illegal work may be sent to the "Municipal Building Surveyor".
Concrete Sleepers have many benefits over their timber counterpart. There are many designs and colours to choose from and there's even one that looks like a timber sleeper ('The Malibu' Woodgrain Textured Concrete Sleeper). They won't warp, twist, significantly alter in appearance or rot and can't be eaten by termites. Initially, concrete sleepers may be more expensive than timber sleepers, but depending on the height of the wall they can actually be a cheaper alternative as they're stronger. For the long term it's a no-brainer, as a timber sleeper wall WILL need to be replaced at some stage and who wants to build a Retaining Wall twice?
Each sleeper has a maximum height retained for engineering purposes.
Please refer our Engineering page for Maximum Retained Heights for all of our concrete sleepers.
If you have any questions, please call the Concrete Sleepers office during trading hours on (03) 9988 2991.